Flame retardant cable can lessen the chance of a fire by preventing the spread of flames. The danger caused by fire believe that we all have witnessed, no matter what kind of occasion, the use of wires and cables are very high, the use of flame-retardant cables will be much safer than ordinary cables, flame-retardant cables can also protect the personal safety, reduce the fire on the environmental pollution. Now we will come together to learn more about flame–retardant cable!
What is the flame retardant cable specification?
Flame retardant cable specifications will vary depending on the specific application, region and industry standards. Flame retardant power cable will typically have several common features and specifications that must be met. These specifications are intended to ensure that, in the case of a fire, the electrical cable decreases the risk of igniting and flame spread. The following are some of the key factors in flame-retardant cable specifications: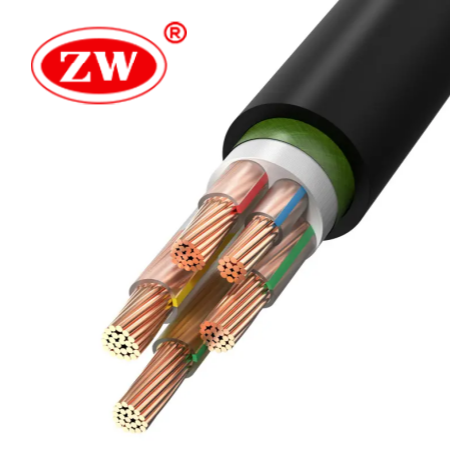 Flame retardant: Flame-retardant cables' principal aim is to lessen the danger of fire by preventing flames from propagating along the flame-retardant cable to other regions in the case of a fire. This is a necessary characteristic of flame retardant cables.
Low smoke volume: Ordinary cables will release a large amount of smoke when they are on fire, blocking people's vision. The low smoke emission of flame-retardant cables improves visibility and helps people to recognize the escape direction after a fire, reducing losses.
Low or no toxic gas emission: Flame retardant power cables emit low levels of toxic gases in case of fire, so people inhale low levels of toxic gases in the air, reducing casualties.
Self-extinguishing: The self-extinguishing feature of fire retardant cable refers to the fact that following a fire, the cables will burn as the temperature rises, and the wires will stop burning once the external source of ignition is eliminated.
To ensure the safety, all flame retardant cables must also conform with the cable manufacturing industry's safety standards and regulations and undergo rigorous testing before being marketed. You can also request specific specifications and relevant data about the product from the cable manufacturer. Let's learn more about the types of flame retardant cables.
Flame retardant cable types
There are various types of flame retardant cables, each designed for certain applications. These flame retardant for cable fulfill different fire safety and performance requirements. The following are some common types of flame retardant cables.
Flame retardant cable
Flame retardant cable can also be abbreviated as FR cable, FR cable uses low smoke and halogen-free materials for insulation and sheathing so that flame retardant cables are able to limit combustion to a localized area without spreading when a fire occurs, protect equipment that has not yet been burned, and reduce the damage caused by the fire. Halogen free flame retardant cables have low smoke emission and toxic gas emission during combustion and are mostly used in buildings, industry and transportation where fire safety is required.
Lszh cable
LSZH stands for "Low Smoke and Halogen Free" and refers to a electrical cable construction that is designed to minimize the emission of smoke and toxic gases when exposed to high temperatures or flames. LSZH cable is commonly used in environments with high fire safety requirements, such as commercial buildings, data centers, public transportation systems and confined spaces. Then it can improve fire safety in these settings.
Lsf cable
Lsf refers to low smoke and fume, which also reduces smoke and toxic gas emissions in the event of a fire. However, lsf cable's extremely low smoke emissions reduce the risk of smoke-related problems during crowd evacuation. lsf cable materials are halogen-free, which makes them more eco-friendly and easier to dispose of than normal cables. People use lsf cable in environments such as building wiring, data cabling, and transportation systems, and lsf cable must be compliant with building codes and industry safety standards.
Fire resistant cable
Fire-resistant cable belongs to a type of special electrical cable for fire fighting. Fire resistant cable can still transmit power and signal in high temperature and fire, just like 2 hour fire rated cable, it used special fire resistant cable material, can still maintain electrical function in 2 hours after fire, keep the circuit continue to run, use the emergency system for first aid to protect people's life safety. And fire resistant will undergo strict fire test before use to determine its fire rating. Fire-resistant cables are usually used in fire alarms, emergency evacuation systems and other fire safety systems such as hospitals.
After understanding what are the main fire retardant cable types, let's take a look at the difference between fire resistant and flame retardant cable together.
Flame retardant vs fire resistant cables
Choose fire resistant or flame retardant cables, people get confused about this and don't understand which is better for their application. Both fire resistant cables and flame-retardant cables are known to improve fire safety, but they also have a lot of differences, and below is a brief list of a few differences.
Function: while fire-resistant cables can continue to run the circuit for a while after a fire, they are mostly useful for preventing the fire from spreading and aiding in the delivery of first aid.
Smoke and toxic gas emission: when there is a fire, flame-retardant cable emit less smoke and harmful gases than fire resistant cables. This can increase fire safety by improving visibility and enabling people to rapidly identify the escape route.
Fire prevention: while flame-retardant cables are primarily intended to reduce the emissionof smoke and harmful gases after burning, fire-resistant cables are more fire-resistant than flame-retardant cables due to their ability to tolerate high temperatures.
Apart from the aforementioned primary differences, there exist additional minute variations; however, both comply with the flame retardant cable standard, allowing individuals to make their own selection based on specific application requirements. After that, let's compare the price of flame retardant cable and lszh.
Flame retardant cable vs lszh price
When both flame retardant cable and lszh cable are suitable for an application, people consider the price of both. The price of flame retardant cable and lszh cable can vary depending on a number of factors such as the manufacturer, the materials used and the market, so here is a brief comparison:
Material and manufacturing process: Both flame retardant cable and lszh cable will use special material to achieve its electrical performance, but the cost of material used for lszh cable will be higher; the manufacturing process of lszh cable will be more complicated than flame retardant cable, so the lszh cable price will be more expensive;
Market demand: the low smoke and toxic gas emission of lszh cable is better than that of flame retardant cable, so the market demand may be a little higher than that of flame retardant cable, which will increase the price of lszh cable;
Order quantity: the price will be cheaper if you buy more quantity. For example, ZW Cable has flame retardant cable in stock and can ship even if you buy one meter, but lszh cable only has some specifications in stock, so you need to pay attention to the MOQ (minimum order quantity) when you buy it.
Distance: differences in the transportation distance of the cable, taxes, exchange rates and floating copper and aluminum prices, etc. They will affect the the cable price;
In a nutshell, there are lots of factors that can affect the price of both flame retardant and lszh cables, generally speaking, lszh cable is more expensive than flame-retardant cable when they have the same size and specifications. If you are not sure about choosing, you can compare different quoted price of different cable manufacturers. Finally, let me tell you the factors you need to consider when choosing flame retardant power cable.
What are the considerations for choosing a flame retardant cable?
The following are the primary considerations that must be took while selecting the right flame retardant cable to assure fire safety:
Application: prior to considering flame retardant cable application, people must ascertain whether the intended usage is appropriate for the cables in question;
Environment: to determine the environment in which the flame retardant cable is used, if it is outdoor wiring, it needs to be able to withstand ultraviolet radiation and rain impact;
Type: according to the specific application to choose the right type of flame retardant cable, such as flame retardant for cable, lszh cable, lsf cable and fire resistant cable;
Durability: consider the service life of the flame retardant cable, durability will affect the maintenance cost and the overall reliability of the system.
Budget: consider your budget and compare the prices of different flame retardant cable types, taking into account factors such as quantity, specification and supplier.
Standard: The flame-retardant cables used must be compliant with the flame retardant cable iec standardand local industry norms;
People should carefully consider the above factors and carefully choose the flame retardant power cable suitable for their application. If they are not sure, they can also consult local professionals to select the most suitable flame retardant cable to improve fire and personal safety.
Conclusion
Overall, after the introduction of flame-retardant cable, you can grasp the specifications, types, considerations, and comparisons with other cables, so you will have a deeper understanding of the uses as well as advantages of flame-retardant cable.
If you are interested in purchasing flame retardant power cable, you can learn about the electrical cable produced by different wire and cable manufacturers from several sources such as online stores, offline stores or cable websites. You can search for flame-retardant cable on Google and it will come up with different manufacturers, find a reliable sourcing agent and make a purchase. ZW Cable, for example, is the best choice for you, and ZW Cable will provide you with excellent service, high quality electrical wire and cable, and the right price.