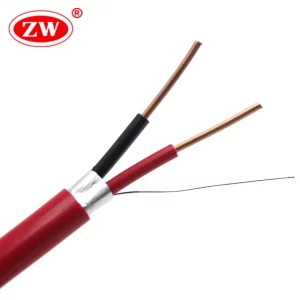 Premium 1000ft 14/2 Fire Alarm Cable
According to IEC and GB Standard
PVC & LSZH
Approved by ISO, CE, SGS

Place of Origin: 

Henan, China
Number of Cores: Two
Low Voltage
HS Code: 8544492100
MOQ: 1000 Meters
14 2 Fire alarm cable refers to a specific type of fire alarm cable commonly used for fire alarms and security systems in the building, suitable for low-voltage applications. "14" refers to the AWG of the conductors. And  "2" indicates two conductors in the alarm wire. Consisting of copper conductor and low smoke halogen-free or PVC sheath with an aluminum foil shield, the 14-2 fire alarm cable is resistant to fire and high temperatures and produces less smoke in the event of a fire. There exist 14 2 plenum fire alarm cable (14 2 fplp), 14 2 fplr wire, and 14 2 fire alarm mc cable according to the installation environments.
14/2 fire alarm cable specification
14 2 fire alarm wire diameter: 8.8mm
Conductor: Plain annealed copper Class 1 
Insulation: PVC
Sheath Color: Red 
Related Voltage:450/750
Temperature Range:-20℃ to75℃
Conductor Resistance: ≤8.45(Ω/KM)
FAQ about
14/2 fire alarm wire
A 2-wire fire alarm system, also known as a "two-wire fire detection system," is a type of fire alarm setup that uses a single pair of wires to power the connected devices and transmit alarm signals. This system simplifies wiring and installation and is more cost-effective than conventional 4-wire systems. Comparatively, however, two-wire systems are limited in the number of devices connected to single loop and the distance the distance loop covers, making 14 2 shielded fire alarm cable more suitable for smaller applications.
"FPLP" stands for "Fire Power-Limited Plenum" and indicates that the 14-2 fplp cable is specifically designed for installation in plenum spaces. Plenum spaces are areas used for air circulation, such as the space above the suspended ceiling, which requires ables with low-smoke and low-flame characteristics to prevent fire and smoke from spreading through the ventilation system.
The reference price of  14 2 fire wire 1000ft is about USD 0.33/ft.