Solar energy is indispensable in pursuing sustainable and renewable energy sources, and PV cable is the key to making full use of this clean energy. PV wire is designed to meet the strict requirements of solar installations and to withstand the challenging environmental conditions that solar systems often face, such as temperature variations, UV exposure, moisture, and abrasion. Sturdy construction is the guarantee of their long service life.
What is PV Cable?
PV (photovoltaic) cable is a specialized cable used in solar power systems. Its main function is to interconnect the solar panels, junction boxes, and inverters within the system, forming a circuit so that current can flow out of or to certain components through the wire. It can bear 90°C under humid conditions and 150°C under dry conditions. Literally, PV wire is similar to PV cable. Yet, unlike single-conductor PV wire, PV cable is a composite of stranded tinned copper wires wrapped by XLPO insulation and XLPO sheath, thus making it more flexible in solar systems and easy to install.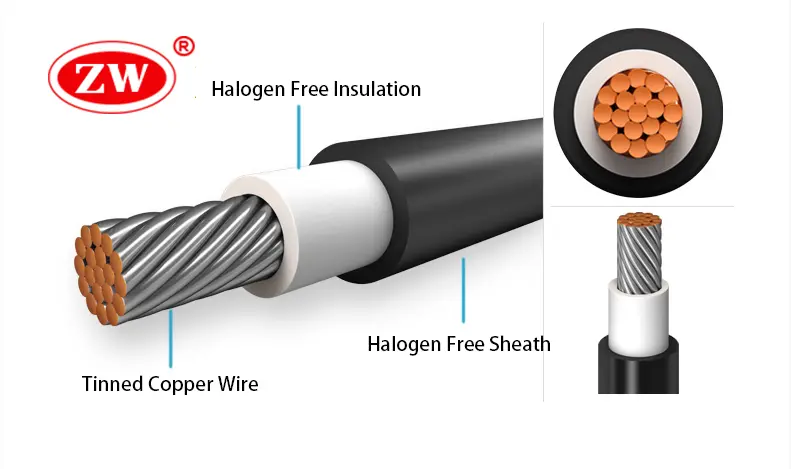 PV Cable Specification
 Photovoltaic cable becoming the designated cable in solar systems has something to do with its specifications.
Here are some specifications for PV cable :
Conductor size: Ranging from 12 awg solar cable to 8 awg solar cable
Conductor material:  Copper and Tinned Copper
Insulation: XLPO
Sheath:  XLPO
Voltage:AC: 1000/1000V   DC: 1500/1500V
Color: Red and black
Temperature range:   -40°C — +90°C.
ExcellentUV and  Ozone resistant 
Tinned copper conductor material can effectively prevent the solar cable from oxidizing; XLPO insulation and sheath make it resistant to high temperatures. But you may be wondering, why can't ordinary cables be applied in photovoltaic systems?
Difference between solar cable and normal cable.
PV cable differs from normal cables in that it is non-flammable, climate、ultraviolet, and ozone resistant. Meanwhile, it is designed exclusively for interconnections in photovoltaic solar power systems and has better insulation, flexibility, and resistance properties than regular cables. Many cables in solar power stations need to be laid outdoors. Due to the harsh environment, dedicated photovoltaic cables are required. Long-term use of normal cables in harsh environments will make the cable sheath more brittle and even decompose the insulation layer, directly increasing the risk of short circuits. The potential for fire or personal injury is also higher in the long run. Therefore, PV cable is the best choice for photovoltaic systems. 
Here are some critical differences between PV cables and regular cables:
| Property | Normal Cable | PV Cable |
| --- | --- | --- |
| Insulation | PVC insulation | XLPO insulation |
| Sheath | PVC Sheath | XLPO Sheath |
| Primary Use | Various power and communication applications | Used for power transmission in PV systems |
| Temperature Rating | 70° C- 90°C | -40° C - +90°C |
| UV Resistance | May not have special UV resistance properties | Designed with good resistance to UV radiator |
| Life Span | 5-8 years | Over 25 years |
Now we have a general understanding of PV cables, but how to choose the right size when we want to purchase this cable? And what are the issues we need to be aware of?
Solar Cable Size
 The conductor cross-sectional area is referred to as the solar cable's size. The increase in the cross-sectional area can reduce the resistance and make the current more stable and smooth. Conversely, if the cross-sectional area is small, the resistance will be high . According to the National Electrical Code, the determining factor for wire size is the load requirements. To meet different demands and needs, PV cables are available in various sizes. The most popular sizes, however, are 6mm2 and 4mm2 and 2.5mm2. When selecting a PV wire, voltage, amperage rating, and installation environment should all be considered.
At the same time, make sure that the selected PV cable complies with the requirements of relevant safety certifications and standards. Common certifications include TUV, UL, and IEC certifications. In this way, various dangers and property losses that may occur during the use of PV cable can be effectively reduced.
In addition to the size, during our long-term production of solar cables, customers often ask: Is conduit necessary for the PV wire? In the following text, we will answer in detail.
Does the PV wire need conduit?
The NEC (National Electrical Code) requires metal conduits for electrical wiring in the home or office. That is to say, conduits are needed if PV wire is laid indoors. On the other hand, outdoor conduits are generally optional due to the particularity of the PV wire itself. Both the PV wire and USE-2 (underground service entrance) are approved to be used outdoors in accordance with NEC Article 690.
USE-2 wires are another type of solar cable. It can only be used for grounded photovoltaic arrays. PV wire and USE-2 Wire both contain XLPE insulation and are rated for direct burial. The difference is that USE-2 solar cables are mainly resistant to compression and impact, while PV wires contain a thicker insulation layer for protection in harsh environments. Also, while the USE-2 can be rated up to 600v, the photovoltaic wire is available in 600v, 1kv, and 2kv voltage ratings. In addition, the temperature rating of the PV wire is higher than the Use-2 wire.
ZW CABLE: Your Best PV Cable Manufacturers.
In a nutshell, PV cables are indispensable in solar systems. They offer exceptional durability, dielectric strength, and safety features to ensure dependable and long-term performance.
When it comes to choosing a trusted PV cable manufacturer, ZW Cable stands out as a top contender. As one of the leading solar cable suppliers, we are dedicated to providing high-quality and durable cables for customers around the world. In addition to advanced technology and superior materials, the solar cables produced by ZW cable are also subjected to rigorous testing and certification.
Choosing ZW Cable as your solar cable manufacturer means gaining access to distinguished cables that minimize power losses and maximize the energy efficiency of solar power systems. With its commitment to quality, durability, and customer satisfaction, ZW Cable has established itself as a trusted partner in the solar industry.