Continued growth in global electricity demand is driving an increase in international electrical cable manufacturers. The cables these manufacturers supply are essential in the transmission, distribution, and use of electricity in our daily lives. In business blog, we will take an in-depth look at top 10 electrical cable manufacturers in world, highlighting their contributions to cable industry and identifying what sets them apart.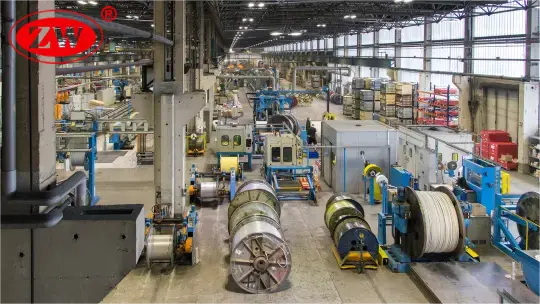 Based in Spain, TOP Cable has been a key player in electrical cable manufacturing sector since its inception in 1985. Although headquartered in Spain, Top Cable has a global presence and operates in over 90 countries through a network of distributors and direct sales offices. The company is involved in infrastructure, oil and gas, mining, and renewable energy industries; main products span medium-voltage cables, flexible rubber cables, fire-resistant cables, and more. Top Cable is renowned for its rigorous quality control, innovative product development, and expansive global distribution networks.
Lapp Tannehill is an electric cable manufacturer in usa, specializing in the distribution of wire and cable with a history dating back to 1962. Located in Savage, Minnesota, this company has carved a niche by offering a wide variety of cables, wires, and accessories; products covering flexible cables, coaxial cable, heat shrink tubing, and wire connectors, catering to various industries like manufacturing, construction, and telecommunications. Beyond product distribution, Lapp Tannehill also provides value-added services, for example, cable striping, custom re-spooling, and custom packaging. Lapp Tannehill's commitment to quality is evident through certifications like ISO 9001.
As an electrical cable manufacturers in Indonesia, Jembo Cable has been providing all kinds of quality cables since 1973. The products they offer, like instrumentation cables, low-voltage electrical cables, and fire-resistant cables are extensively used in telecommunication, automotive, and power transmission. Jembo was listed on the Jakarta Stock Exchange in 1992, entering into a partnership with Fujikura Corporation, a leading Japanese power cable manufacturer. Customer satisfaction and premium products are at the core of Jembo Cable's business philosophy. In addition, Jembo electrical cable manufacturer has also made a series of efforts to minimize production's impact on environment.
Sumitomo Electric Industries
Japanese cable manufacture Sumitomo Electric Industries is a global giant in electrical equipment. Its main products are automotive wiring harnesses, optical fibers, thhn wire, and superconducting cables, catering to various industries, e,g. automotive, information & communications, electronics, and energy.  Sumitomo prioritizes innovation and research, investing substantially in these areas to drive the development of new technologies and products. With forward-thinking approaches and vast international presence, Sumitomo has secured its position as a trusted brand in cable industry.
Established in 1878, Okonite Cable is one of the longest-running and largest wire manufacturers in usa, producing insulated wire and cables used in electric utilities, railroads, chemical, and wastewater treatment industries. Okonite operates six manufacturing facilities across the United States, allowing them to produce diverse cables and fulfill large order volumes. Their products are known for durability and performance. Okonite not only provides high-quality products, but further differentiates itself by engineering field services that provide direct technical advice and support to customers.
Based in London, UK, Eland Cable is one of the largest cable manufacturers in the world, specializing in producing and supplying power cable, data cable, control cable, and instrumentation cable, as well as cable accessories. Eland operates in more than 130 countries for rapid international delivery capacity and quality. The products are widely used in construction, energy, oil and gas, telecommunications, and other industries.
Chunbin Cable is a Chinese underground electrical cable manufacturers that offers assorted cable products, including coaxial cable, fire-resistant cable, overhead insulated cable, and house wire. The products are widely applied in electric utilities, elevators, construction, and home appliances. Chunbin electrical cable manufacturer is dedicated to customer service, quality management, and innovation, and has earned a robust reputation in the industry.
South Korea's LS Cable & System is also one of the world's top wire and cable distributors. Company mainly produces power and telecommunication cables, as well as integrated modules and other related industrial materials. The products are widely used in power transmission, energy, telecommunications, automotive, etc. Moreover, LS Cable & System is also a high voltage cable manufacturer and is known for its technological prowess, quality assurance, and global network of operations.
Furukawa Electric, founded in 1884 in Japan, is a global manufacturer in the fields of telecommunications, automotive, and energy. Furukawa Electric has diverse product portfolios, including automotive wiring harnesses, electronic components, semiconductor materials, and various cables (e,g. fiber-optic cable, superconducting wires, and high-temperature wire). Furukawa is devoted to research and development and has invested significantly in innovative technologies.
Established in  China in 1993, ZW CABLE is a large-scale electrical cable manufacturer and supplier integrating production, research and development, and sales. ZW is known for producing broad range of high-quality wires and cables, products cover 10kv cable, 15kv cable, 69kv cable, and other special cables, which are widely used in construction and power transmission.
One of ZW Cable's great strengths is its relentless pursuit of quality. ZW implements strict quality management in the factory to consistently produce durable and high-performing wires and cables. Whether producing low-voltage cable or large-size cable for transmission towers, ZW always utilizes superior raw materials – high-purity copper, and complies with the highest quality standards.
Why Choose ZW CABLE?
ZW CABLE stands out from other electrical cable manufacturers for several reasons. Firstly, ZW Cable provides high-quality electrical cables at competitive prices. Their products have undergone rigorous quality testing to meet international standards and perform reliably. Secondly, the company offers customized cable solutions, catering to specific needs of clients. In addition, ZW is equipped with professional teams, providing one-stop customer service for technical support, product selection assistance, and after-sales service. ZW's commitment to customer satisfaction, coupled with the ability to deliver products promptly, makes them a reliable partner across the globe.
Conclusion
All in all, the above top wire and cable manufacturers have made outstanding contributions to global cable supply with their unique strengths and specialties. Their relentless pursuit of quality, innovation, and customer satisfaction suggests that they will continue to play a vital role in electrical industry in future. Whether you're in construction, telecommunications, or power transmission – any industry that requires high-quality cables – these are all wire suppliers worth considering.
Related Post:
1.  10 Leading Electrical Cable Manufacturers In The World
2. 7 Outstanding Electrical wire manufacturers in the world
3.10 Prominent Solar Cable Suppliers In The World
4.Leading Top 10 Cable Manufacturers in the World
5.Top High Voltage Cable Manufacturers In World
6. 7 Outstanding Electrical wire manufacturers in the world